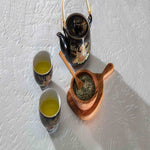 7 types of tea and their amazing health benefits.
Many of us know that relaxing with a cup of tea carries you away into the serenity of a bygone age. But there is more than beauty to taking tea; it can also be an act of healing.
Whether it's "tea for two" by the fireplace or a high tea for twenty, there's an undeniable mystique surrounding the simple act of taking tea. The very act of brewing and serving tea to one's special someone or a group you want to impress turns the interlude into a social occasion.
Although there are an infinite number of hybrids of tea, the three main varieties of the tea plant are China, Assam and Cambodia. There are only three basic types of Camellia sinensis: green, black, and oolong. It's the processing of leaves that makes all the difference.
Green Tea is unfermented, oolong is partially fermented, and black tea is fully fermented.
A brewed cup of tea contains a moderate amount of caffeine, volatile oils, tannin and several B-complex vitamins. 
Unless you add sugar and milk, a cup of tea contains only four calories. With the addition of a splash of milk and a lump of sugar, the calories count will jump to about forty.
Tea as a beverage was introduced by a Chinese scholar named Lu Yu in 350 A.D.
Most traditional tea drinkers like you and me drink tea because we find the taste pleasing. Tea, like coffee or wine, is an acquired taste.
Preparing the brewing water for different types of tea:
Always use fresh bottled water for brewing tea. Tap water contains chemicals that can alter the taste of the brew.  Always heat the water as per the given instructions below;
Green Tea – Steep in water at first boil. This is when water first begins to bestir itself. It's restless, but yet not simmering.
Oolong Tea – Steep in water at second boil. This water is dancing and hissing with impatience. There are bubbles rising across the entire surface.
Black Tea – Steep in water at third boil. Water at a full, rocking boil is needed to release the full flavor of black tea.
Note - When brewing water is ready, empty the teapot and put a suitable amount of tea into it. One teabag or one rounded teaspoon of loose tea per cup. Add the boiling water, cover and, let steep for three to five minutes.
7 types of teas with amazing health benefits
Ginger Tea ("adarak wali chai")
Ginger tea is very beneficial to the body. To use ginger in tea, we need to brew a decoction. Grate 30gms of dried ginger root; simmer for 10 minutes in 1 pint of pure water. Sweeten with honey and flavor with lemon to make it a body-stimulating traditional cold, sore throat and flu remedy.
It helps to fight or prevent the following health related problems;
Circulatory-system-related problems
Cold and flu
Colic
Congestion
Digestion related problems
Female disorders
Gastrointestinal problems
Gas
Heartburn
Joint pain
Kidney related problems
Motion sickness
Nausea
Sore throat
Spleen related problems
Vomiting
Green Tea
Green tea is one of the sipping teas, so ancient that its use as a refreshing drink dates back 5,000 years. It's true that green tea has been traditionally taken as a beverage, not as a medicinal tea but you will be surprised to find out its healing effects in the human body.
To brew green tea, use 1 teaspoon of loose tea or 1 tea bag per cup. Heat water to boiling. Then take the water off the heat and let it stand a moment until it stops bubbling before pouring it over the tea. Cover and steep from 2 to 5 minutes.
It helps to fight or prevent the following health related problems;
Blood pressure-related problems
Cancer
Colds and Flu
Dental-related problems
Heart problems
Stroke
Peppermint Herbal Tea
Peppermint actually shortens the amount of time food spends in the stomach because of its action on the gastric lining. This herb is traditionally used to cleanse and strengthen the entire body.
To brew a flavor filled cup of peppermint tea, use 1 teaspoon or 4 gm of dried herb parts to 8 ounces of freshly boiled water. Steep, strain and allow cooling. Enjoy your fresh cup of peppermint tea.
It helps to fight or prevent the following health related problems;
Cold extremities
Colic
Diarrhea
Digestion related problem
Gas
Headache
Heartburn
Nausea
Ulcers
Weight Control
Parsley Herbal Tea
Parsley is a diuretic herb traditionally used to treat all cases of fluid retention, including obesity. Parsley is wonderfully cleansing. In old Greece, parsley was called the "stone breaker". It can remove stones, if they are not too large.
When purchasing the dried herb for therapeutic use, find out what portion of herb is included. The roots, for example, are more powerful than the leaves. Follow the manufacturer recommendation for dosage.
Simply steep a few springs of the curly green leaves and stems in freshly boiled water and sip slowly. Parsley tea taken after meals is good for protection against indigestion.
Note – Pregnant women should avoid it. Also, when the body is battling acute infection and kidneys are involved, avoid drinking this.
It helps to fight or prevent the following health related problems;
Weight Control
Water retention
Urinary tract-related problems
Lung-related problems
Hair-related problems
Gas
Female Disorders
Digestion related problems
Dental related problems
Anise herbal tea (Moti Suanff)
Anise is an ancient much valued herb that makes a lovely garden plant. Anise (Moti saunf) is a carminative herb, useful for expelling gas, eliminating colic, preventing nausea and improving digestion. Analysis shows that Anise contains several B vitamins, choline, calcium, iron, potassium and magnesium.
It is often noticed in our Indian tradition that this herb is served after a meal as a nice gesture. There has been an ancient health approach behind this serving. It prevents digestion related problems.
To brew a healing tea of anise, pour 8 ounces of freshly boiled water over 2 or 3 teaspoon of anise seeds and stir well. Steep for 8 minutes, strain well, sweeten the taste with honey, if you like, and sip hot. If the seeds are not well crushed, you will need to prepare a decoction.
It helps to fight or prevent the following health related problems;
Water retention
Sinusitis
Nausea
Motion sickness
Gas
Digestion related problems
Coughs
Colic
Colds and Flu
Garlic Herbal Tea
Garlic is a very useful whole-body detoxicant that fights infections of all types. It also supports the immune system and has antibiotic, antifungal and even antiviral properties. Garlic is appreciated both for its medicinal qualities and for the intense and distinctive flavor it brings to food.
Take one clove of garlic and crush it. Leave the garlic in a glass of water. Place the garlic into a pot (stainless steel) and add fresh water.
Simmer it uncovered until the water content reduces by one third, usually for about 10 to 20 minutes. Place a strainer over a glass pitcher. Pour the decoction of garlic through the strainer into the pitcher.
Use one teaspoon of garlic decoction into one cup of tea. Add honey to sweeten it and enjoy the special aromatic tea.
It helps to fight or prevent the following health related problems;
Allergies
Arthritis
Asthma
Blood-pressure related problems
Blood purifiers
Cancer
Cholesterol related problems
Colds and Flu
Digestion related problems
Fatigue
Heart problems
Immune function related problems
Infection
Liver related problems
Sinusitis
Ulcers
Gotu Kola or Bramhi herbal tea
Gotu Kola also known as Brahmi in the Ayurvedic tradition stimulates the central nervous system. It also rebuilds energy reserves, relieves high blood pressure and helps defend the body against various toxins. LiChing Yun an ancient healer from China, who lived for 256 years was known for his lifelong use of tea brewed from Gotu Kola and other herbs.
Brew the tea using 1 level tea-spoonful or 4 grams of the herb per 8 ounces of freshly boiled water. It is beneficial to take ½ cup of this tea 3 times daily for at least 1 month.
It helps to fight or prevent the following health related problems;
Water retention
Urinary tract related problem
Stroke
Skin conditions
Sex related problems
Nervous system related problems
Liver related problem
Infection
Heart problems
Fatigue
Depression
Blood purifiers
Blood pressure related problems
Age related disorders
Acne
Read more from our blog: