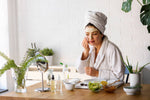 The combination of time and environmental factors can take a toll on our complexion and leave our face looking dull and aged. Rejuvenating and revitalising the skin with proper daily skin care regimen is the most effective way to see optimum results.
If you are looking for simple, organic and 100% natural products to help you achieve a glowing skin, we have curated the following solution which will help you get your goal with three simple steps. 
1. Age Delay Face oil:  This ultimate anti-aging product stimulates cell regeneration, improving circulation & firming up mature skin texture. It is a unique blend of jojoba oil, rosehip oil, grape seed oil and essential oils. This face oil is quick to absorb in the skin pores giving skin its vital food.
2. Saffron Night Cream: Made of 100% natural & organic compositions, this skin care essential caters to both oily and dry skin. Its gel based texture works overnight on your face to give it a blemish-free glow & even-tone to skin. Goodness of saffron and vitamin-C reduces  wrinkles and fine lines.
3. Rose Face Toner: This special steam-distilled hydrosol made from fresh rose petals controls inflammation, redness, skin pores and is ultra-hydrating to use just before sleep or can be used as a mist throughout the day.
The steps to use the ultimate anti-aging products are be as follows:
Use rose face toner on the skin after a proper cleansing every morning and evening to fill the skin pores with rose water. This helps in tightening the skin pores making the skin firm.
Take 2-3 drops of anti delay face oil and gently massage your moist face along with the neck in upward direction until fully absorbed.
Clean your face with any herbal face wash then apply saffron night cream on the face and leave it overnight, you can also use it after anti-aging face oil. Rinse with lukewarm water in the morning.