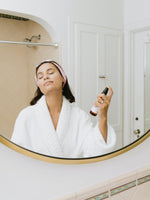 Oily skin comes with its own challenges. On days when it's humid or extra hot, the greasy layer on the face can be quite something to handle. All we can do is try to maintain a balance but trying to achieve it can be quite daunting. 
It gets super confusing while finding the right beauty regime for oily skin. But here's how we decided to make it simpler for you. It is often said, less is more; which goes for skin care regimes as well. So here are 3 simple steps to get rid of oily skin:
Master your cleansing routine 
Having oily skin can make you want to wash your face quite frequently. But dermatologists suggest that frequent washing can actually do more harm than good. It tends to activate excess oil production instead, and eventually, the skin gets ripped off of the natural and necessary sebum reserves.
Cleansing is a crucial ritual for everyone's skin. Choosing the right cleanser is essential for one's skin and changes your skincare game altogether. Ayur means activated charcoal face wash has to be considered one of the best cleansers for oil control. Activated charcoal helps in opening up the pores, evacuates excessive oil, and purifies the skin. 
It not only cleanses the skin but also penetrates deep into it. With a unique blend of organic products and herbs, this face wash helps detoxify the skin. All you need is a pea-sized product on your palm and clean your face with ease. Remember to wash your face twice a day to maintain healthy skin.
Scrub it away
People with oily skin require a little more care than just the usual cleansing. Using a good scrub twice a week gives better results. Exfoliation is a great way to get rid of dead skin cells, unclogs pores, and reduces oil build-up that helps the skin to breathe.
Ayurmeans herbal coffee scrub can be the solution that will make your skin radiant, healthy, and glowing by exfoliating all the dead skin cells. It reduces the risk of clogged pores, acne, and blackheads that people with oily skin face issues with. All you need is half a teaspoon of this product and some curd, gently massage your face for about 2 to 3 mins and wash it off.
Face oil
One can do these above-mentioned steps, but hydrating your skin is the ultimate key to locking your skin with the essence and benefits of the products used. It enhances the water-retaining capacity and makes the skin absorb the products used in the skincare regime.
Often, people with oily skin tend to skip this step because they think their skin doesn't require hydration but that can be harmful. This Ayurmeans face oil is a unique combination of oils that provides the skin with just the right amount of hydration and doesn't make oily skin too greasy. It is quite lightweight and heals the skin from within. All you need is 2-3 drops of this oil and massage in your moist face for better absorption.